Description
Before buying these PLEASE make sure you are buying the correct type , there seems to be 2 types of these that westfalia made .
The most common version is the one made for vehicles that had a factory sunroof impression in the roof , so the lower foot/feet fitted inside the recess in the roof and mount flat in the sunroof channel . Part number for these on the site is BB-072
The second type is usually used on 1973 models or just non sunroof models , these have a totally different bottom foot , these have a contoured foot matches the curve of the roof itself , and as they bolt directly to the roof are shorter overall in length .
SO CHECK YOUR FEET BEFORE BUYING (I HAVE ADDED IMAGES THAT SHOULD HELP TELL WHICH TYPE YOU NEED .)
Angled underside of foot means it is a non factory sunroof model .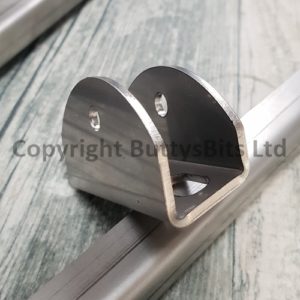 So if you have a Westfalia forward facing pop top with a non factory sunroof opening these will fit, they are stainless steel and come with the new springs all fitted ready to go. Made to the same dimensions as the originals, just made better and in stainless steel.
For use on NON Sunroof models ,
1973 models are sometimes mounted onto the curve of the roof , please make sure you know which type you require . We will always have them back if purchased in error .